Everhart's extra-wide wood slabs truly reveal the company's distinction in specialty wood products. With a history of more than 100 years in the lumber industry, Everhart's firmly rooted skills naturally evolved into the development of these extraordinary log slabs.
Everhart wood slabs are a blending of:
locally acquired native Southern hardwood species from the nearby Appalachian Mountain forests
the ability and equipment to "rescue" massive fallen timber, wind/storm damaged or standing dead trees, and other large diameter trunks and logs - many destined for the burn pile
the company's longstanding lumbering, in-house sawmill, drying, custom millwork and finishing operations
an "eye" for seeing the potential in the organic irregularities, rot, cracks, stresses, deformities, limb crotches and rough edges - abnormalities which routinely eliminate such timber from becoming finished lumber
accenting flecks, burls, curls, flames, and the incredible variety of textures in the grain
centuries old methods, proprietary equipment and tools, specialized finishing materials and techniques, creative styling, fine craftsmanship
unique ability to handle slabs up to 80" wide, cutting as thick as 6"
minimal processing, with no veneers, paint, staining, or fancy finishes - merely unleashing the natural beauty
skills to reveal and enhance the hidden patterns, shapes, colors, and textures from the raw wood
truly American made; designed and crafted from local wood by on-site American wood craftsmen
bringing decayed and dead wood back to life, resurrecting its inherent splendor
creating heirloom wood pieces, blending grandeur, utility, strength and durability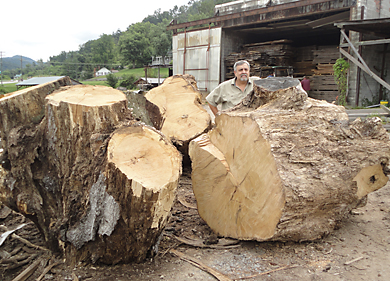 The stunning beauty in the spectacular textures, patterns and grain of Everhart's wood slabs elevate them from functional objects to artistry. Lumbering is a long-time tradition in southeast Tennessee, in the forest-covered foothills of the Smoky Mountains. Using locally harvested hardwoods - oak, maple, walnut, cherry, sycamore, ash, pecan, beech, elm, poplar, cedar, and sassafras - Everhart hand-selects local trees which have fallen or need to come down; trees which die from natural circumstances, trees downed by wind and storms, trees removed by city workers, trees which are a danger to a building and its occupants. Every rescued massive tree has its own story, often laden with history, like the standing-dead 200 year old oak which had originally been planted to shade those awaiting a carriage ride. Everhart transformed this timber into magnificent slabs, measuring 12' x 6' x 3" thick, ultimately destined for exquisitely handsome furniture tops. It takes an experience eye to discern what would normally be considered as lumber flaws, and to recognize the potential to magnify the imperfections for stunning results. All raw logs which arrive at the Everhart lumber yard are evaluated to determine their best ultimate use, such as flooring, paneling, or furniture. Those with the most outstanding character are reserved as tabletop slabs. Pieces of once grand trees are resurrected into new life, becoming functional objects with artistic flair.
Everhart mills huge burls, trunks, and logs into slabs up to 6" thick, cutting vertically or horizontally from the tree. Woodworkers, home owners, interior designers, and architects can select from massive dried/sanded/filled slabs, from strong and durable handmade slab furniture, or from thick slabs of rough sawn fresh cut lumber. Every piece is unique in its dimensions, naturally straight or irregular edges, wood species, and natural imperfections. Each has its own unusual combination of textures, patterns and designs. Everhart can cut slabs into book-matched sets, quartersawn grain, natural edge irregular shapes, and other custom specifications. Burls, limbs, cracks, decay, and other figuring in the wood are accented, unleashing the material's natural splendor. Slabs are kiln-dried to make them suitable for interior use, and can be fashioned into many types of furniture. The company's own custom furniture shop creatively transforms the raw hardwood slabs into one-of-a-kind table tops, kitchen island tops, commercial and residential countertops, headboards, bench seats and backs, sofa tables, space dividers, floor inlays, entry door frames, and other distinctive applications. Since the slabs are so massive, table top usage ranges from end tables to coffee tables to dining tables to conference tables - all functional pieces, handcrafted into works of art to last for generations. Such beauty can only be released by craftsmen who have the ability to work with such inspiring natural materials, and who have respect and admiration for nature's majesty.