Everhart Lumber Company began as a family-owned lumber company and building center "Everhart & Gray Lumber Supply," dating back to 1966 when Wayne Gray, Favis Everhart, and Thayman Everhart bought the company from the Trotter family. The present owners, Danny McFalls and Deborah (Everhart) McFalls, bought into the company in 1984 and became sole owners of the company in 2005. Upon acquiring sole ownership, Danny and Deborah changed the focus of the company's products and services to address the ever-changing needs of their customers, including a renewed interest in wood designed homes and the use of timbers such as post and beams in rustic and contemporary homes and in commercial buildings.
Everhart Lumber Company is located in Tellico Plains, Tennessee, a town steeped in the lumber business. Records and photos from the late 1800s document the tradition of the timber industry which created a booming town in the valley of the Tellico River, at the edge of thousands of acres of mountain forest. Everhart Lumber operates on a site where lumber operations have occurred continuously for over 100 years. These past operations were described in 1912 as "the largest lumber mill in the South" as the Tellico River Lumber Company Plant, owned by Babcock Land and Lumber Company.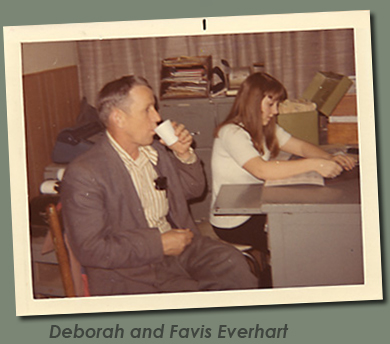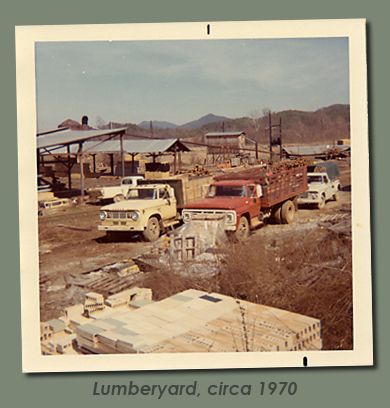 Today, Everhart Lumber Company focuses on specialty wood products including Douglas-fir, Western Red Cedar, Southern Yellow Pine, and Native Hardwoods post and beams and antique, reclaimed beams and lumber. Unique quarter-sawn oak and circle-sawn paneling and flooring products have been added to the list of new materials being offered.

Everhart Lumber Company now also offers custom made furniture from reclaimed lumber and from other wood products with unique character. The handcrafted, heirloom quality wood furniture, built to last generations, is made by local master furniture makers. Please visit our showroom in Tellico Plains to view the furnishings or contact us for more information.