Everhart Lumber Company is proud to offer custom made furniture from reclaimed lumber and other unique character wood products. The handcrafted, heirloom quality wood furniture is built to last generations - and made in the USA. Each piece is designed and built to reflect the customer's desire for something unique and different. The furniture is made by local master furniture makers, with great craftsmanship and attention to detail. From structures such as a pre-Civil War log cabin, 1800s cotton mill, and barns more than a century old, Everhart's mill turns lumber such as fir, walnut, cedar, pine, reclaimed beams, and reclaimed lumber into unique mantels, furniture, and many other specialty products. Each reclaimed product has a story waiting to be told. Please visit our Showroom in Tellico Plains to view the furnishings or contact us for more information. See Video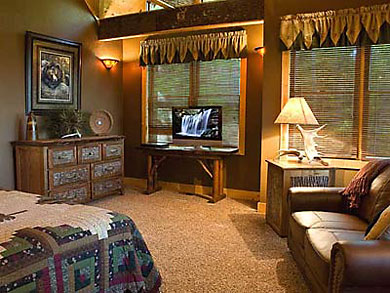 From the on-premise custom furniture-making shop come pieces which highlight and showcase the natural beauty of distinctive wood varieties. Working directly with customers, the Everhart furniture makers customize tables, chests, benches, dressers and other wood furniture to the specific sizes and uses needed. Reclaimed lumber, looking like a pile of old dusty and rotten boards to the layman, becomes a church-pew style bench or rustic bedside table in the hands of these craftsmen. Old nail holes, missing knots, and rough edges add to the character of the furniture. New lumber, cut to highlight the grain, the wood colors, and the natural features like knots and bark, is combined in interesting new ways. The furniture makers have also developed their own wood finishes, such as reproducing the look of worn red barn paint, creating a distressed finish that's totally smooth to the touch, inserting bark in unusual ways, and mimicking the texture of old circle-saws.
Custom cabinets and vanities can be made from barn wood, chestnut, knotty alder, and dozens of other wood species. The shop's custom railings are perfect for a log home's interior loft or staircase, with hewn pine posts on the top and bottom and mortised coarse-cut branches as spindles. The shop can also produce stair treads with distinctive wood boards.
Many of the one-of-a-kind furniture designs which originate in response to customers' needs have proven so popular that many are now being built for display and sale to the public in the Showroom and Furniture Gallery at Everhart Lumber, at very reasonable prices. You can also see more of the furniture and visit the custom shop in the Everhart videos. See Video
Browse our Online Store for a selection of one-of-a-kind furnishings, pieces of specialty wood, and occasional clearance items.
Please note our Showroom and Furniture Gallery hours are Monday - Friday, 7:30am to 4:30pm.